The Heart and Brain team performed a unique robot-assisted surgery in Burgas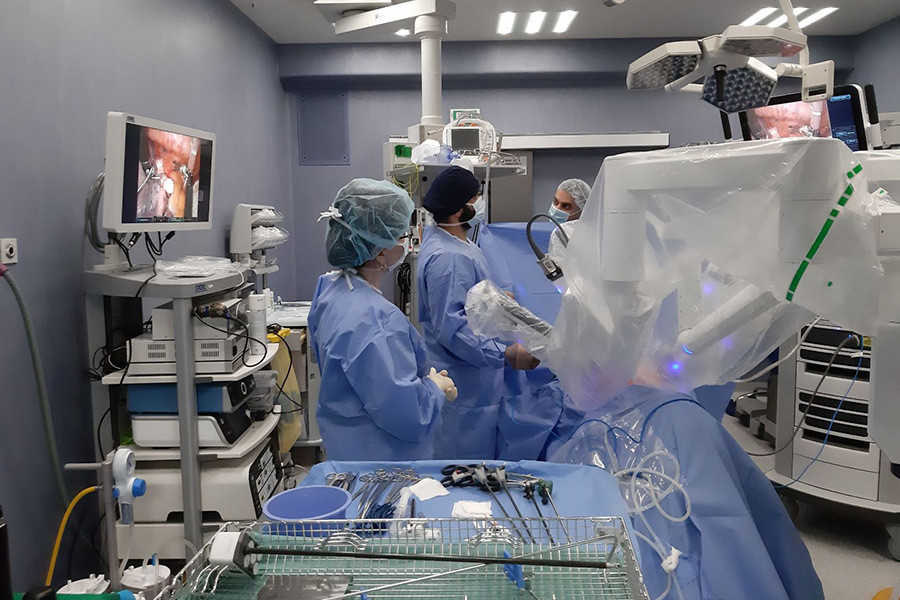 The team of the thoracic surgery clinic of Heart and Brain Hospital, Burgas, led by Assoc. Prof. Dr. Rumen Filipov, performed a unique surgery for Bulgaria. The latest-generation da Vinci robotic system helped the specialists to perform a successful, bloodless and patient-friendly hiatal hernia operation through the chest. In this condition, the abdominal organs enter the chest through an opening in the diaphragm (the so-called hiatus) through which the oesophagus normally passes.
This is the fourth operation in a row with the da Vinci four-arm robotic system – the only one in Southeaster Bulgaria. Just a month after the first intervention, anatomical and non-anatomical lung resection, thymus surgery and hiatal hernia surgery were performed in the Department of Thoracic Surgery.
The team that performed the surgery consisted of: Assoc. Prof. Dr. Rumen Filipov – console surgeon, Dr. Dimo Mitev – surgeon in the sterile field, Dr. Kaloyan Junov – anesthesiologist.