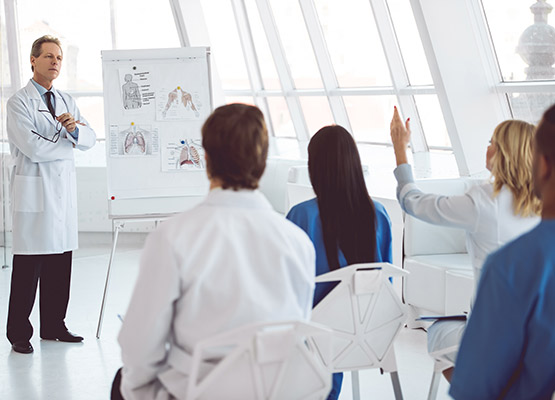 Medical Specialties
The Bulgarian Cardiac Institute hospitals are accredited for the education of students and postgraduate students in accordance with the Bulgarian legislation.
The theoretical education of students and postgraduate students for the specialties cardiology, cardiac surgery, vascular surgery, anesthesiology and intensive care is performed at the Medical University of Pleven.
The practical education of students and postgraduate students is performed at the Bulgarian Cardiac Institute hospitals in Pleven, Veliko Turnovo, Varna, Shumen and Yambol, which provide the necessary habilitated lecturers and modern technological bases to teach the educational program in all specialty sections and modules.
The education for specialty qualification is performed in accordance with programs approved by the Minister of Health.
The educational programs include:
The mandatory theoretical and practical educational content and the mandatory formation time required
The modules distribution and duration
The mandatory colloquium and the time schedule
The knowledge, skills and competence, that need to be acquired
The Bulgarian Cardiac Institute ensures the quality of the education for specialty certification through an internal system for evaluation, support and educational quality development, including 'student opinion' polls at least once per year.