Heart and Brain Center of Clinical Excellence is awarded for the highest vaccination rate in the Pleven region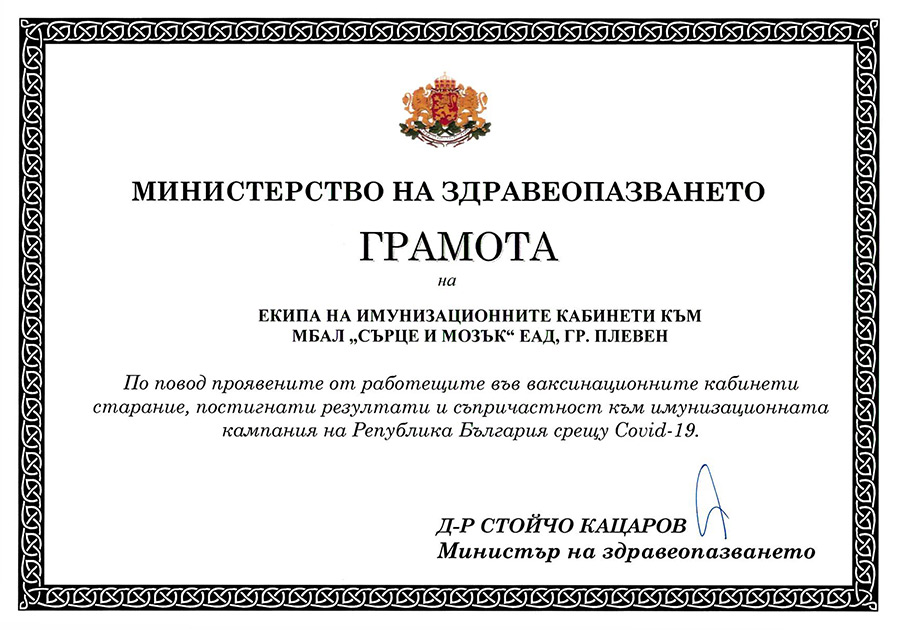 A certificate for the highest result in vaccinating the population and for commitment to the immunization campaign against COVID-19 in the Pleven region was awarded to the administrative director of the Heart and Brain Center of Clinical Excellence Martin Mitev by the Ministry of Health. The ceremony took place in the Pleven Hall of the Regional Administration.
So far, 7 711 vaccinations (about 20 per day) have been carried out in the specialised immunisation rooms of the leading hospital. During the weekend campaigns, about 100 doses are used in the outdoor vaccination area of Renaissance Square.
"On behalf of my colleagues, I would like to thank the Ministry for its consideration. We accept this certificate as recognition for our work and efforts in the immunization campaign. We simply do our work not to seek gratitude, but because we believe that the only salvation in the battle against COVID-19 is mass vaccination," said Martin Mitev. He added: "People need to receive more information based on scientific evidence about the benefits of vaccination as it is crucial for the whole society that every Bulgarian takes an decision by to be vaccinated."
Currently in the intensive care unit of the Heart and Brain Hospital Pleven, there is not a single immunized patient among those in severe condition with COVID-19.